Roof Coating in Tucson, AZ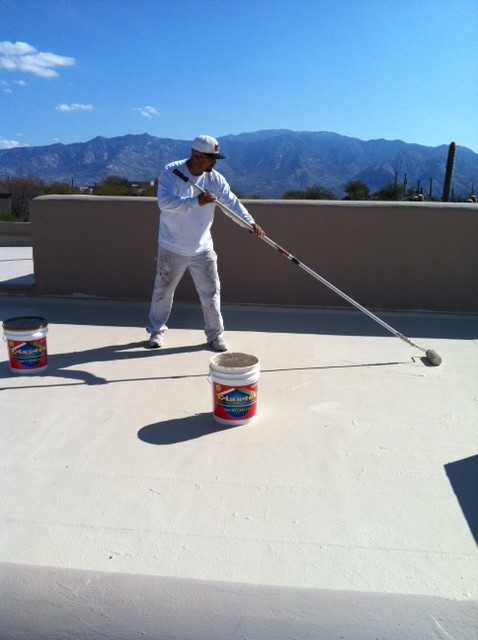 Keeping a Reliable Roof Overhead
Have you ever coated a roof? Did it seem time-consuming, tedious, and maybe even a little dangerous?
Save yourself time and energy, and leave your roof repair and roof coating to the experts at Stetson
Painting. We have the tools and training necessary to repair and coat your roof quickly, affordably, and
safely. Plus, we offer a free estimate AND a free roof inspection.
If you end up needing roof coating in Tucson, AZ, you can expect the specialists at Stetson Painting to
follow these steps:
We will power wash and clean your roof to insure great quality and high bond value.
We scrap off loose and peeling roof material.
We apply a three-course patching system using a crack and joint sealant from Elastek® wherever
needed and around all protrusions.
We will spot prime, seal, and protect your roof with Elastek Solar Tek Extreme™. This coat has a
seven-year warranty and is ideal for Tucson's climate.
With roof coating in Tucson, AZ, your home will have an improved appearance and an increased
property value. The coating will also lower heat loss in your home, thereby helping the environment.
The benefits will last for years to come.
Elastek®: Keep Cool in the Sweltering Heat
If you really want to save energy, go with an Elastek® roof coating. Elastek® is the industry leader in cool
roof technology, and it is a great choice for the hot Southwest. Elastek® products are extremely durable,
energy saving, long lasting, and environmentally friendly. We recommend Elastek®, and along with these
products, Stetson Painting also offers great warranties and a roof maintenance program on roof coating
in Tucson, AZ.
For a free estimate on roof coating in Tucson, AZ and the surrounding areas, contact Stetson Painting
today. See our 100% satisfaction guarantee in action. You will love your newly coated roof.